Facendo una ricerca veloce sul blog, ci sono almeno cinque o sei post in cui ho ammesso di volere un parka. Cinque o sei post dal gennaio 2011 ad oggi.
Dopo averne elencato le qualità essenziali (qui), ho continuato la mia ricerca infruttuosamente.
Fino a quando sono andata a fare un giro nel reparto maschile di Zara.
Ora, sappiamo che gli uomini non sono poi così fortunati: i loro reparti sono piccoli e sforniti, le collezioni sono noiose (o tamarre), i capi di buona qualità hanno sempre prezzi più alti della media. Ma da un paio di stagioni ho scoperto che una taglia S maschile mi sta - quasi - a pennello e che nei saldi più sostanziosi si trova sempre!
Ecco quindi che vi presento il mio nuovo parka maschile, a cui ho anche provato ad aggiungere una cintura arrotolata in vita quando voglio quel tocco in più.
Vale sempre la pena fare un giretto nell'armadio di lui ;)
Che ne pensate?
If I search the word "parka" in my blog, I can find five or six posts in which I express my desire to have one. Five or six posts since January 2011.
After describing the perfect one (here), I continued with my failing research.
Until I took a look at Zara man's corner.
Well, we all know that men are a bit unlucky: their corners are small and poor, collections are boring (or trashy), items of good quality always have higher prices. But I discovered that a male S size is almost perfect on me and it's easy to find during sales! So I'm proud to show you my new male parka.
It's worth having a look at his closet ;)
What do you think?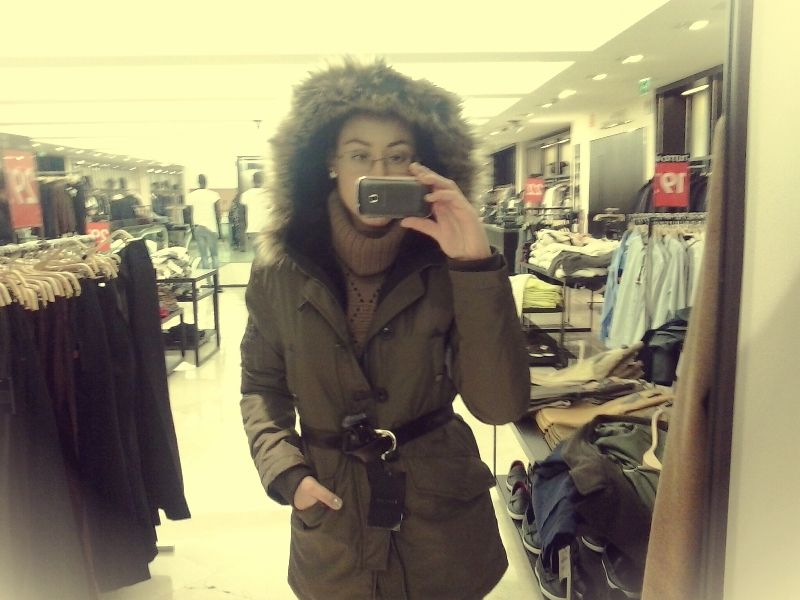 ZARA MAN Parka and Belt
BERSHKA Sweater and Leggings
AVON Earrings